Road Racing History Hengelo
History
1967 - 1969
Early in the sixties there were plans to organize races in Hengelo Gld. It lasted till 1967 before the first races were held. The first race weekend was on the 19 and 20 of August.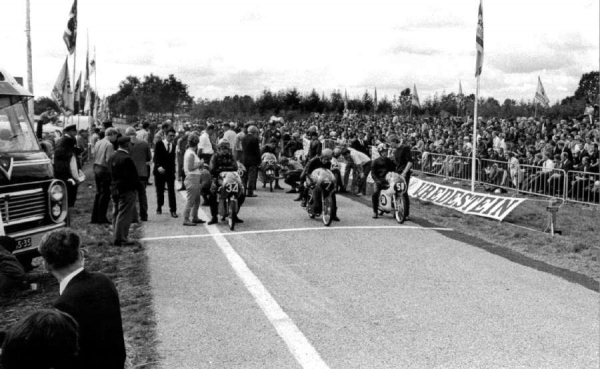 1967: start 50cc, J. Zoombelt 34, H. van Beek 7, L. Foekema 58
The organization had to buy straw bales in France because the straw bales in Hengelo and surrounding were too small. 10.000 spectators came on race day. The organization, the spectators, riders and press were all positive. The races in Hengelo are a welcome addition. The name of the circuit 'Varsselring' was given in 1969.
1970 - 1979
The first 3 years only national races were held on the Varsselring. In 1970 the races got international. The foreign press from England and Germany were enthusiastic about the races and organization as well. The number of GP-riders who joined the races in Hengelo was growing in 1971. Barry Sheene, Jan de Vries, Jarno Saarinen, Teuvo Länsivuori, Kent Andersson, Bruno Kneubühler, Takazumi Katajama, Anton Mang, Dieter Braun, Werner Pfirter, Dave Simmonds, Jack Findley, Chas Mortimer, Cees van Dongen, Billie Nelson, Ron Chandler, Ernst Hiller, Pentti Korhonen, Alberto Pagani, Rolf Minhoff, Lothar John, Börje Jansson, Theo Bult, Rob Bron, Wil Hartog and many more came to Hengelo in the early seventies.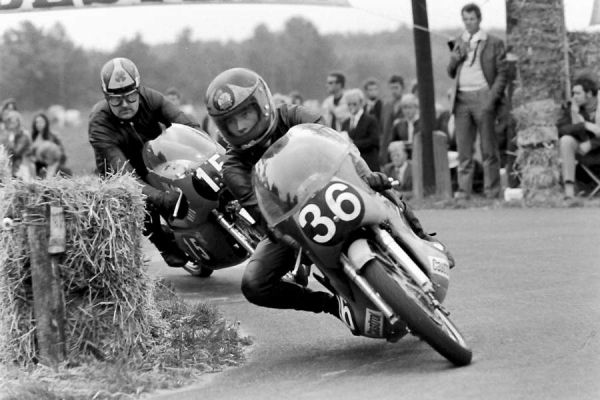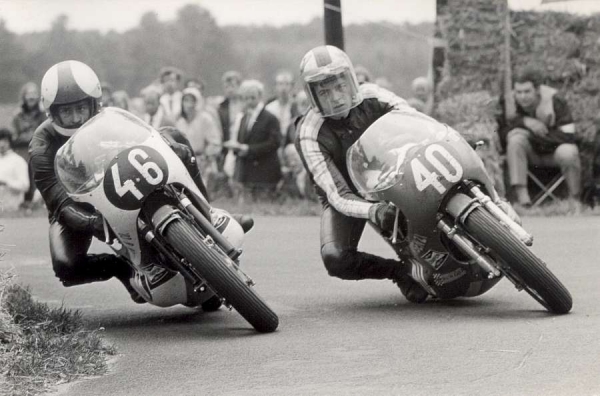 1971: Barry Sheene 36 (photo: J. Burgers) - 1972: Jarno Saarinen, Chas Mortimer (photo: J. Burgers)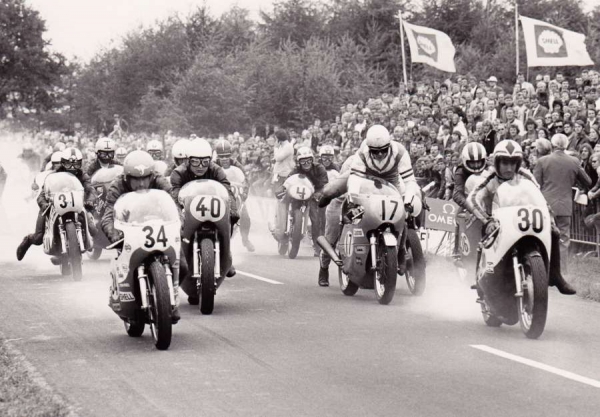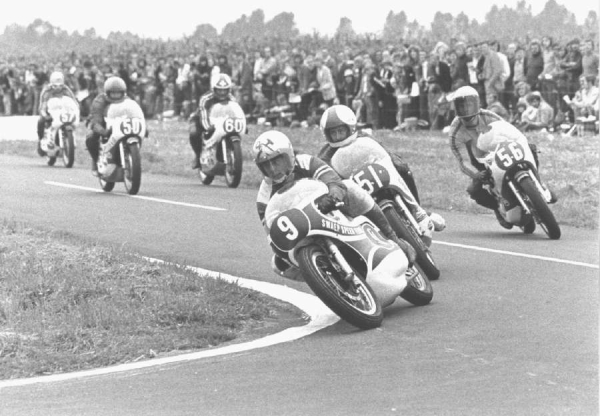 1972: start 500cc, Ian Ratcliff 1, Billy Nelson 36, Dave Simmonds 30, Keith Turner 31, Ernst Hiller 40, Jack Findlay 34, Henk Coelman 17 (photo: J. Burgers)
1972: 250cc race, Adri van de Broeke 9, Jarno Saarinen 51, Kent Andersson 56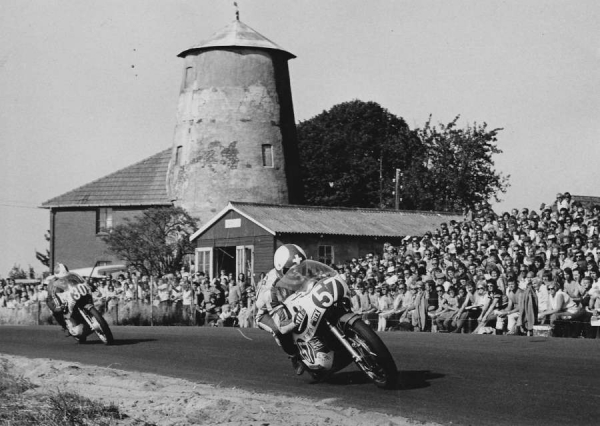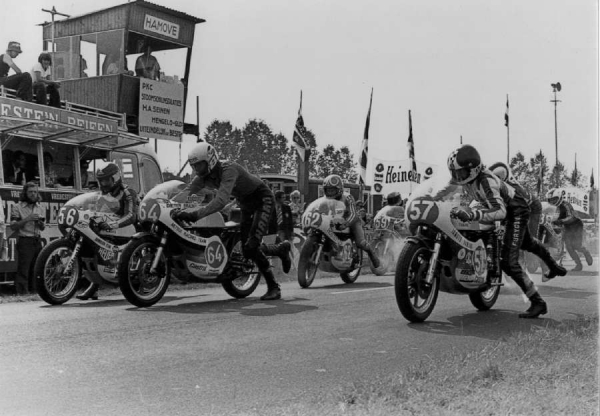 1973: 250cc race, Werner Pfirter 57, Rob Bron 30 - 1974: start 350cc, Pentti Korhonen 56, Dieter Braun 64, John Dodds 57, Bruno Kneubuhler 62
There was a conflict between the national federation (KNMV) and the HAMOVE in 1975. HAMOVE did not agree with the programme they could get and had another proposition. In the end there was a solution but it was too late for contracting riders. Because of that there were no races that year.
The races in 1976 took place on Easter Monday for the first time. That was an excellent move. There were more than 20.000 spectators on race day. A record, never again were there so many spectators. At the prize giving ceremony Takazumi Katayama showed he could do more than racing a bike. He played guitar for the present audience.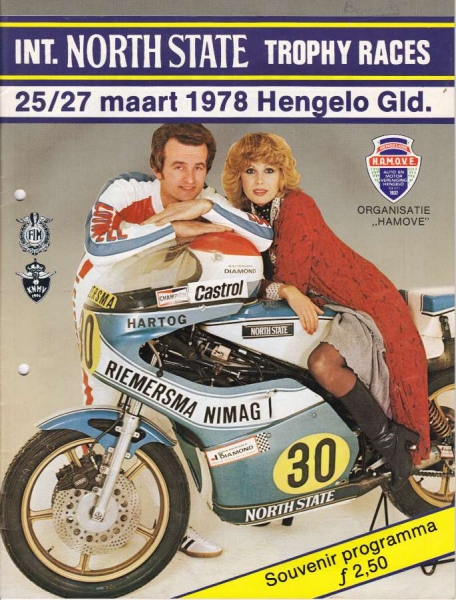 The weather in 1977, 1978 and 1979 was bad. Cold and a lot of rain. Because of that there were many crashes. The English actor Joanna Lumley 'Purdey' came to the races in Hengelo to hand out the trophies in 1978. She was so cold and said my teeth are totally frozen. Besides the cold and the rain 16.000 spectators came to the races that day. Some of the riders who raced in Hengelo in the late seventies are Jon Ekerold, Bruno Kneubühler, Chas Mortimer, Pekka Nurmi, Marcel Ankone, Pentti Korhonen, Alan North, Alex George, Jack Middelburg, Takazumi Katayama, John Dodds, Churijo Tateno, Anton Mang, Jack Findley, Tom Herron, Rolf Minhoff, Theo Timmer, Boet van Dulmen, Ales George, Jürgen Steiner, Reinhold Roth, Eero Hyvärinen and Hans Spaan.
1980 – 1989
Hengelo was world news in 1981. Takazumi Katayama raced in Hengelo for the first time with a prototype Honda four strokes with oval pistons.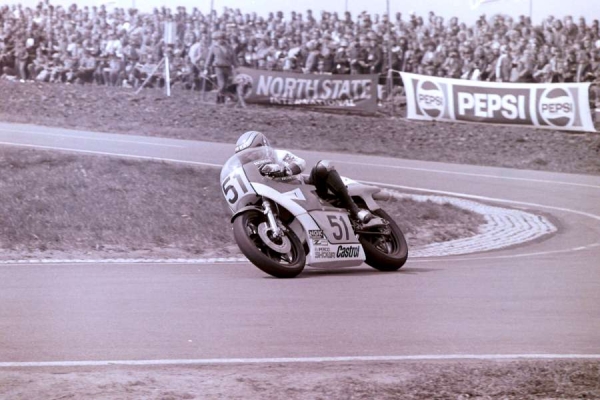 1981: Takazumi Katayama - prototype Honda
It had an engine speed of 22.000 turns per minute. It was not a success in spite of six Japanese mechanics. The following riders raced in Hengelo in the beginning of the eighties: Chas Mortimer, Pekka Nurmi, Jon Ekerold, Seppo Rossi, Eero Hyvärinen, Alfred Waibel, John Woodley, Alan North, Jack Middelburg, Boet van Dulmen, Hans Spaan, Gustav Reiner, Hans Müller, Jean-Francois Balde, Martin Wimmer, Greame McGregor, Graziano Rossi, Greame Crosby, Christian Sarron, Anton Mang, Manfred Herweh, Harald Eckl, Bruno Kneubühler.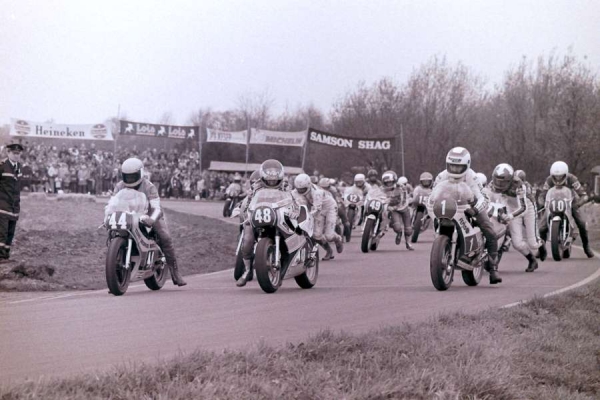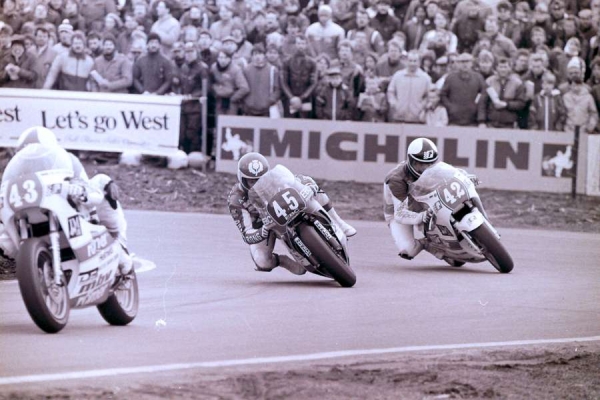 1983: start 250cc, Greame Mc Gregor 44, Christian Sarron 48, Mar Schouten 10, Thierry Rapicault 49, Gerard van de Wal 10 (photo: Toon Kannekens)
1985: Reinholt Roth 43, Niall Mackenzie 45, Harald Eckl 42 (photo: Toon Kannekens)
To the organization it was getting more and more difficult to contract GP-riders in the 250cc or 500cc so they looked for an alternative. Halfway the eighties the sidecar world top came to Hengelo. The top five of the world championship 1984 were in Hengelo. Egbert Streurer and Bernard Schnieders, Werner Schwärzel and Andreas Huber, Alain Michel and Jean-Marc Fresc, Rolf Biland and Kurt Waltisperg, Derek Jones and Brian Ayres. The start money was the same as two 500cc world-class riders. They made a great show. They knew where the spectators were coming for.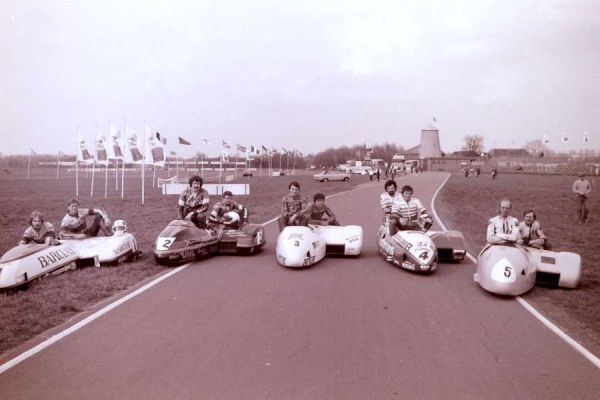 1985: Egbert Streuer, Werner Schwarzel, Alain Michel, Rolf Biland, Derek Jones
In 1987 it was for the first time riders from Hengelo and surrounding joined the races. Gerard Slotboom, Marcel Menting and Harald Massen raced in the Yamaha TZR cup. The sidecars were the main attraction in the late eighties. Riders who raced in Hengelo at the end of the eighties were Reinhold Roth, Harald Eckl, Niall Mackenzie, Frank Wagner, Hans Spaan, Wolfgang von Muralt, Eero Hyvärinen, Gustav Reiner, Bruno Kneubühler, Didier de Radigues, Markus and Urs Egloff, Steve Webster and Tony Hewitt, Steve Abbot and Shaun Smith, Rolf Steinhauser and Bruno Hiller, Wilco Zeelenberg, Jurgen and Patrick van den Goorbergh.
1990 – 1999
The ONK (open Dutch championship) started in 1993 as an answer to the fact that it was too difficult to contract GP-riders. There was a meeting with organizers of road races in Amsterdam in 1994. De goal was to start a world championship on road circuits. The FIM and the KNMV were not enthusiastic so it did not start till now. Who knows what the future will bring?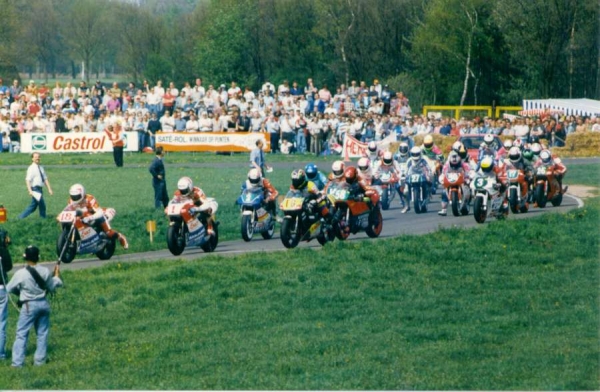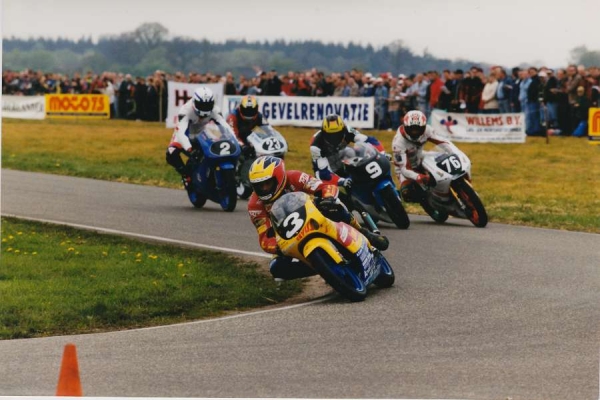 1993: start 250cc, Wilco Zeelenberg 1, Patrick van den Goorbergh 18, Jurgen van den Goorbergh 16
1999: 125cc race, Wilhelm van Leeuwen 3, Ole Gram 76, Wim Kroegman 9, Marc van Harten 23, Tom Bleys 2
1994 was the last year HAMOVE races were held with Easter. It was bad weather again. Mile Pajic (Supersport 600) and Hans Smees (MUZ Skorpion Cup) were the first HAMOVE members who were Dutch Champion. They received that in 1997. The Hengelo and HAMOVE-man Torleif Hartelman was Dutch champion in the Supersport 600 in 1998. Riders in the nineties were Ralf Waldman, Stefan Dörflinger, Loek Bodelier, Dirk Raudies, Hans Spaan, Alfred Waibel, Patrick and Jurgen van den Goorbergh, Wilco Zeelenberg, Cees Doorakkers, Arie Molenaar, Ian Lougher, Steve Webster and Garvin Simmons, Egbert Streuer and Harrie Hofsteenge, Steve Abbot and Shaun Smith, Klaus Klaffenböck, Charly Güdel, Koji Takada, Andreas Preining, Harald Eckl, Stephane Mertens, Jeffry de Vries.
2000 – today
In late 2002 HAMOVE came up with an idea. The idea was to start an international cup on road circuits. HAMOVE approached the organizations in Oostende (Belgium) and Frohburg (Germany). They were interested and enthusiastic to start an international cup together. The 3 nations cup was born. Ten German, ten Belgium and ten Dutch riders raced to each other in two manches during a race weekend. In 2010 the competition got more international with a new name: IRRC (International Road Racing Championship). Riders from Ireland, England, Hungary, Czech Republic, Denmark, Slovakia, Switzerland, Finland, France and Lichtenstein joined the races as well. More information about the IRRC you find on the IRRC website: www.irrc.eu.
In 2006 the first European cup raced on the Varsselring. The European Women's cup had one of their championship races in Hengelo. The German rider Nina Prinz won the Superbike race and Italian Chiara Valentini won the Supersport race after Iris ten Katen was disqualified because her windowpane was too thin.
The organization in Hengelo combines the IRRC, ONK, OBK (open Belgium championship) races with some other series like the ICGP (International Classic Grand Prix) and the 50cc Classic European Cup
All the Dutch talents like Michael van de Mark, Jasper Iwema, Scott Deroue and Raymond Schouten raced in Hengelo last years. But Gino Rea and the 2012 and 2014 sidecar world champion Tim Reeves as well.